Sea Dragons history
Latest news: On 28 July 2019, Black Dragons agreed to merge with Adelaide Sea Dragons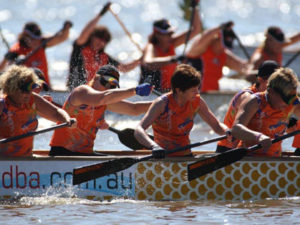 The Adelaide Sea Dragons (ASD) dragon boat club can trace its roots back to 1986 when dragon boat racing began in South Australia. The amalgamation of three corporate teams and the original sports team (Adelaide Dragon Boat Racers) has resulted in a strong club that competes in all categories of racing.
We are a proud and inclusive Club, aspiring to continued local, national and international success in a friendly and enjoyable environment.
Our members come from 3 regions in South Australia – Adelaide, Ceduna and Streaky Bay and the distance between Adelaide and Ceduna is about 800kms. Despite the geographic diversity we are a united Club and regularly prove that distance is no barrier to success.
Having been established for over 29 years we are one of the founding Clubs of the South Australian Association – DragonBoat SA
The Club has been State Champions in various divisions over the years, tasted success in the 2000-2016 Australian Championships and competed in the last 6 Club Crew World Championships (Click on the 'Achievements' page to see our medal count).
After our first attempt in Cape Town at the CCWC we have medalled at each subsequent event and have been the most successful Club in South Australia from 2007-2013.
Members of Adelaide Sea Dragons have also represented Australia in IDBF World Championships – Shanghai (2004), Florida (2010), Hungary (2014) and Canada (2015).
The Adelaide Sea Dragons are also the current record holders for the 100k & 200k Murray River Paddling Marathon in the Dragon Boat Class. This is a gruelling 3-day event of tough paddling and great fun.
We also run regular WEA courses that introduce paddlers of all ages and abilities to our sport over a 4-week training period.
Adelaide Sea Dragons use the latest innovations available to improve our capabilities – Ergo machine, State of the Art Paddles, GPS, Cox-Voxes, Video Equipment, Merlin Excalibur Data Acquisition Dragon Boat paddle and Motion Master for performance analysis.
Our credo of "Train Hard – Win Easy" has seen us enjoy considerable success at all levels.
Philosophy
Our Club Philosophy is "Unity, Harmony and Competitiveness". We always strive to win, and train hard to achieve that, but underlying our goal is a culture which places a high emphasis on fun whilst ensuring that whatever we undertake is enjoyable.